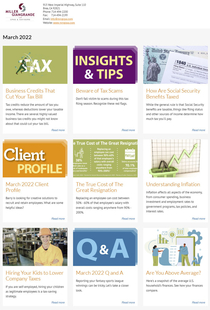 Business Credits That Cut Your Tax Bill
Tax credits reduce the amount of tax you owe, whereas deductions lower your taxable income. There are several highly valued business tax credits you might not know about that could cut your tax bill.
Beware of Tax Scams
Don't fall victim to scams during this tax filing season. Recognize these red flags.
How Are Social Security Benefits Taxed
While the general rule is that Social Security benefits are taxable, things like filing status and other sources of income determine how much tax you'll pay.
March 2022 Client Profile
Barry is looking for creative solutions to recruit and retain employees. What are some helpful ideas?
The True Cost of The Great Resignation
Replacing an employee can cost between 50% - 60% of that employee's salary with overall costs ranging anywhere from 90% - 200%.
Understanding Inflation
Inflation affects all aspects of the economy, from consumer spending, business investment and employment rates to government programs, tax policies, and interest rates.
Hiring Your Kids to Lower Company Taxes
If you are self-employed, hiring your children as legitimate employees is a tax-saving strategy.
March 2022 Q and A
Reporting your fantasy sports league winnings can be tricky. Let's take a closer look.
Are You Above Average?
Here's a snapshot of the average U.S. household's finances. See how your finances compare.
Read More