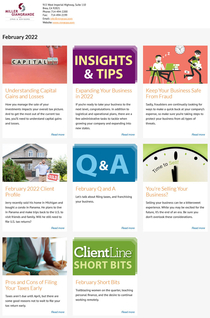 Understanding Capital Gains and Losses
How you manage the sale of your investments impacts your overall tax picture. And to get the most out of the current tax law, you'll need to understand capital gains and losses.
Expanding Your Business in 2022
If you're ready to take your business to the next level, congratulations. In addition to logistical and operational plans, there are a few administrative tasks to tackle when growing your company and expanding into new states.
Keep Your Business Safe From Fraud
Sadly, fraudsters are continually looking for ways to make a quick buck at your company's expense, so make sure you're taking steps to protect your business from all types of threats.
February 2022 Client Profile
Jerry recently sold his home in Michigan and bought a condo in Panama. He plans to live in Panama and make trips back to the U.S. to visit friends and family. Will he still need to file U.S. tax returns?
February Q and A
Let's talk about filing taxes, and franchising your business.
You're Selling Your Business?
Selling your business can be a bittersweet experience. While you may be excited for the future, it's the end of an era. Be sure you don't overlook these considerations.
Pros and Cons of Filing Your Taxes Early
Taxes aren't due until April, but there are some good reasons not to wait to file your tax return early.
February Short Bits
Trailblazing women on the quarter, teaching personal finance, and the desire to continue working remotely.
Read More