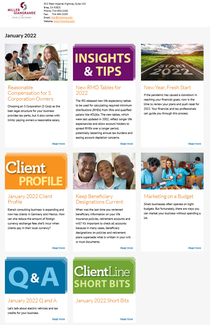 Reasonable Compensation for S Corporation Owners
Choosing an S Corporation (S Corp) as the best legal structure for your business provides tax perks, but it also comes with limits: paying owners a reasonable salary.
New RMD Tables for 2022
The IRS released new life expectancy tables to be used for calculating required minimum distributions (RMDs) from IRAs and qualified pplans like 401(k)s. The new tables, which were last updated in 2002, reflect longer life expectancies and allow account holders to spread RMDs over a longer period, potentially lessening annual tax burdens and easing account depletion concerns.
New Year, Fresh Start
If the pandemic has caused a slowdown in reaching your financial goals, now is the time to review your plans and push reset for 2022. Your financial and tax professionals can guide you through this process.
January 2022 Client Profile
Elena's consulting business is expanding and now has clients in Germany and Mexico. How can she reduce the amount of foreign currency exchange fees she'll incur when clients pay in their local currency?
Keep Beneficiary Designations Current
When was the last time you reviewed beneficiary information on your life insurance policies, retirement accounts and will? It's important to check all accounts because in many cases, beneficiary designations on policies and retirement plans supersede what is written in your will or trust documents.
Marketing on a Budget
Small businesses often operate on tight budgets. But fortunately, there are ways you can market your business without spending a lot.
January 2022 Q and A
Let's talk about electric vehicles and tax credits for your business.
January 2022 Short Bits
Read More