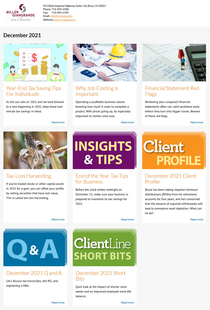 Year-End Tax Saving Tips For Individuals
As the sun sets on 2021 and we look forward to a new beginning in 2022, keep these last-minute tax savings in mind.
Why Job Costing is Important
Operating a profitable business means knowing how much it costs to complete a project. With prices going up, its especially important to review costs now.
Financial Statement Red Flags
Reviewing your company's financial statements often can catch problems early before they turn into bigger issues. Beware of these red flags.
Tax-Loss Harvesting
If you've traded stocks or other capital assets in 2021 for a gain, you can offset your profits by selling securities that have lost value. This is called tax-loss harvesting.
End of the Year Tax Tips for Business
Before the clock strikes midnight on December 31, make sure your business is prepared to maximize its tax savings for 2021.
December 2021 Client Profile
Bruce has been taking required minimum distributions (RMDs) from his retirement accounts for four years, and he's concerned that the amount of required withdrawals will lead to premature asset depletion. What can he do?
December 2021 Q and A
Let's discuss tax transcripts, the IRS, and registering a DBA.
December 2021 Short Bits
Quck look at the impact of shorter work weeks and an improved employee work-life balance.


Read More