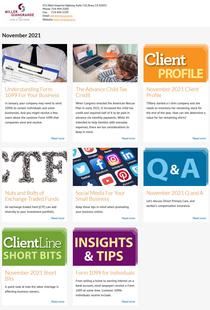 Understanding Form 1099 For Your Business
In January, your company may need to send 1099s to certain individuals and some businesses. And you might receive a few. Learn about the common Form 1099 that companies send and receive.
The Advance Child Tax Credit
When Congress enacted the American Rescue Plan in early 2021, it increased the child tax credit and required half of it to be paid in advance via monthly payments. While it's intended to help families with everyday expenses, there are tax considerations to keep in mind.
November 2021 Client Profile
Tiffany started a t-shirt company and she needs to inventory her remaining stock for the end of the year. How can she determine a value for her remaining shirts?
Nuts and Bolts of Exchange-Traded Funds
An exchange-traded fund (ETF) can add diversity to your investment portfolio.
Social Media For Your Small Business
Keep these tips in mind when promoting your business online.
November 2021 Q and A
Let's discuss Direct Primary Care, and worker's compensation insurance.
November 2021 Short Bits
A quick look at how the labor shortage is effecting business owners.
Form 1099 for Individuals
From selling a home to earning interest on a bank account, most taxpayers receive a Form 1099 at some time. Common 1099s individuals receive include:
Read more
Read More