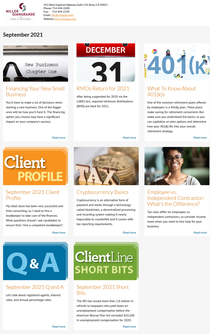 Financing Your New Small Business
You'll have to make a lot of decisions when starting a new business. One of the bigger ones will be how you'll fund it. The financing option you choose may have a significant impact on your company's success.
RMDs Return for 2021
After being suspended for 2020 via the CARES Act, required minimum distributions (RMD) are back for 2021.
What To Know About 401(k)s
One of the common retirement plans offered by employers is a 401(k) plan. These plans make saving for retirement convenient. But make sure you understand the basics so you can capitalize on plan options and determine how your 401(k) fits into your overall retirement strategy.
September 2021 Client Profile
My retail store has been very successful and time consuming, so I need to hire a bookkeeper to take care of the finances. What questions should I ask candidates to ensure that I hire a competent bookkeeper?
Cryptocurrency Basics
Cryptocurrency is an alternative form of payment and works through a technology called blockchain, a decentralized processing and recording system making it nearly impossible to counterfeit and it comes with tax reporting requirements.
Employee vs. Independent Contractor: What's the Difference?
Tax rules differ for employees vs. independent contractors, so consider income taxes when you need to hire help for your business.
September 2021 Q and A
Let's talk about registered agents, interest rates, and annual percentage rates.
September 2021 Short Bits
The IRS has issued more than 2.8 million in refunds to taxpayers who paid taxes on unemployment compensation before the American Rescue Plan Act excluded $10,200 in unemployment compensation for 2020.
Read More