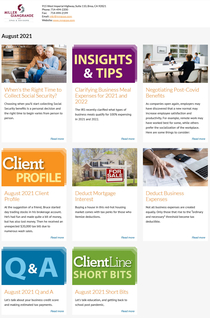 When's the Right Time to Collect Social Security?
Choosing when you'll start collecting Social Security benefits is a personal decision and the right time to begin varies from person to person.
Clarifying Business Meal Expenses for 2021 and 2022
The IRS recently clarified what types of business meals qualify for 100% expensing in 2021 and 2022.
Negotiating Post-Covid Benefits
As companies open again, employers may have discovered that a new normal may increase employee satisfaction and productivity. For example, remote work may have worked best for some, while others prefer the socialization of the workplace. Here are some things to consider:
August 2021 Client Profile
At the suggestion of a friend, Bruce started day trading stocks in his brokerage account. He's had fun and made quite a bit of money, but has also lost money. Then he received an unexpected $20,000 tax bill due to numerous wash sales.
Deduct Mortgage Interest
Buying a house in this red-hot housing market comes with tax perks for those who itemize deductions.
Deduct Business Expenses
Not all business expenses are created equally. Only those that rise to the "ordinary and necessary" threshold become tax deductible.
August 2021 Q and A
Let's talk about your business credit score and making estimated tax payments.
August 2021 Short Bits
Let's talk education, and getting back to school post pandemic.
Read More