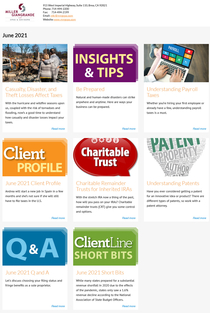 Casualty, Disaster, and Theft Losses Affect Taxes
With the hurricane and wildfire seasons upon us, coupled with the risk of tornadoes and flooding, now's a good time to understand how casualty and disaster losses impact your taxes.
Be Prepared
Natural and human-made disasters can strike anywhere and anytime. Here are ways your business can be prepared.
Understanding Payroll Taxes
Whether you're hiring your first employee or already have a few, understanding payroll taxes is a must.
June 2021 Client Profile
Andrea will start a new job in Spain in a few months and she's not sure if she will still have to file taxes in the U.S.
Charitable Remainder Trusts for Inherited IRAs
With the stretch IRA now a thing of the past, how will you pass on your IRAs? Charitable remainder trusts (CRT) give you some control and options.
Understanding Patents
Have you ever considered getting a patent for an innovative idea or product? There are different types of patents, so work with a patent attorney.
June 2021 Q and A
Let's discuss choosing your filing status and fringe benefits as a sole proprietor.
June 2021 Short Bits
While many states prepared for a substantial revenue shortfall in 2020 due to the effects of the pandemic, states only saw a 1.6% revenue decline according to the National Association of State Budget Officers.
Read More