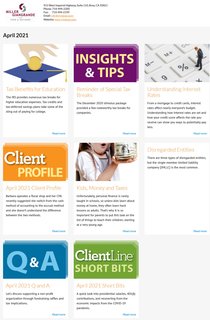 Tax Benefits for Education
The IRS provides numerous tax breaks for higher education expenses. Tax credits and tax-deferred savings plans take some of the sting out of paying for college.
Reminder of Special Tax Breaks
The December 2020 stimulus package provided a few noteworthy tax breaks for companies.
Understanding Interest Rates
From a mortgage to credit cards, interest rates affect nearly everyone's budget. Understanding how interest rates are set and how your credit score affects the rate you receive can show you ways to potentially pay less.
April 2021 Client Profile
Barbara operates a floral shop and her CPA recently suggested she switch from the cash method of accounting to the accrual method and she doesn't understand the difference between the two methods.
Kids, Money and Taxes
Unfortunately, personal finance is rarely taught in schools, so unless kids learn about money at home, they often learn hard lessons as adults. That's why it is so important for parents to put this task on the list of things to teach their children, starting at a very young age.
Disregarded Entities
There are three types of disregarded entities, but the single-member limited liability company (SMLLC) is the most common.
April 2021 Q and A
Let's discuss supporting a non-profit organization through fundraising raffles and tax implications.
April 2021 Short Bits
A quick look into presidential salaries, 401(k) contributions, and recoveriing from the economic impacts from the COVID-19 pandemic.
Read More