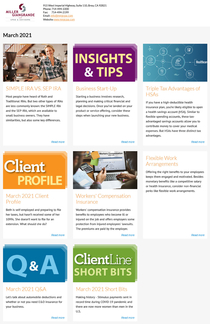 SIMPLE IRA VS. SEP IRA
Most people have heard of Roth and Traditional IRAs. But two other types of IRAs are less commonly known: the SIMPLE IRA and the SEP-IRA, which are available to small business owners. They have similarities, but also some key differences.
Business Start-Up
Starting a business involves research, planning and making critical financial and legal decisions. Once you've landed on your product or service offering, consider these steps when launching your new business.
Read moreTriple Tax Advantages of HSAs
If you have a high-deductible health insurance plan, you're likely eligible to open a health savings account (HSA). Similar to flexible spending accounts, these tax-advantaged savings accounts allow you to contribute money to cover your medical expenses. But HSAs have three distinct tax advantages.
March 2021 Client Profile
Beth is self-employed and preparing to file her taxes, but hasn't received some of her 1099s. She doesn't want to file for an extension. What should she do?
Workers' Compensation Insurance
Workers' compensation insurance provides benefits to employees who become ill or injured on the job and offers employers some protection from injured employees' lawsuits. The premiums are paid by the employer.
Flexible Work Arrangements
Offering the right benefits to your employees keeps them engaged and motivated. Besides monetary benefits like a competitive salary or health insurance, consider non-financial perks like flexible work arrangements.
March 2021 Q&A
Let's talk about automobile deductions and whether or not you need E&O insurance for your business.
March 2021 Short Bits
Making history - Stimulus payments sent in record time during COVID-19 pandemic and there are now more women than men in the U.S.
Read more
Read More