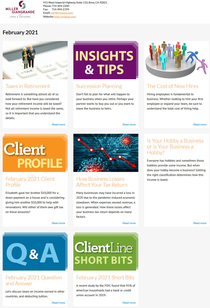 Taxes in Retirement
Retirement is something almost all of us look forward to. But have you considered how your retirement income will be taxed? Not all retirement income is taxed the same, so it is important that you understand the details.
Succession Planning
Don't fail to plan for what will happen to your business when you retire. Perhaps your partner wants to buy you out or you want to leave the business to heirs.
The Cost of New Hires
Hiring employees is fundamental to business. Whether looking to hire your first employee or expand your team, be sure to understand the total cost of hiring help.
February 2021 Client Profile
Elizabeth gave her brother $10,000 for a down payment on a house and is considering giving him another $10,000 to help with renovations. Will either of them owe gift tax on these amounts?
How Business Losses Affect Your Tax Return
Many businesses may have incurred a loss in 2020 due to the pandemic-induced economic slowdown. When expenses exceed revenue, a loss is generated. How these losses affect your business tax return depends on many factors.
Is Your Hobby a Business or Is Your Business a Hobby?
Everyone has hobbies and sometimes those hobbies provide some income. But when does your hobby become a business? Getting the right classification determines how this income is taxed.
February 2021 Question and Answer
Let's discuss taxes on income earned in other countries, and deducting tuition.
February 2021 Short Bits
A recent study by the FDIC found that 95% of American households had a bank or credit union account in 2019.
Read More