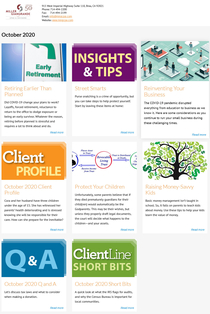 Retiring Earlier Than Planned
Did COVID-19 change your plans to work? Layoffs, forced retirement, reluctance to return to the office to dodge exposure or being an early survivor. Whatever the reason, retiring before planned is stressful and requires a lot to think about and do.
Street Smarts
Purse snatching is a crime of opportunity, but you can take steps to help protect yourself. Start by leaving these items at home:
Reinventing Your Business
The COVID-19 pandemic disrupted everything from education to business as we know it. Here are some considerations as you continue to run your small business during these challenging times.
October 2020 Client Profile
Cora and her husband have three children under the age of 15. She has witnessed her parents' health deteriorating and is stressed knowing she will be responsible for their care. How can she prepare for the inevitable?
Protect Your Children
Unfortunately, some parents believe that if they died prematurely guardians for their child(ren) would automatically be the Godparents. This may be their wishes, but unless they properly draft legal documents, the court will decide what happens to the children—and your assets.
Raising Money-Savvy Kids
Basic money management isn't taught in school. So, it falls on parents to teach kids about money. Use these tips to help your kids learn the value of money.
October 2020 Q and A
Let's discuss tax laws and what to consider when making a donation.
October 2020 Short Bits
A quick look at what the IRS flags for audits, and why the Census Bureau is important for local communities.
Read More