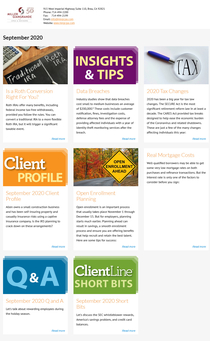 Is a Roth Conversion Right For You?
Roth IRAs offer many benefits, including federal income tax-free withdrawals, provided you follow the rules. You can convert a traditional IRA to a more flexible Roth IRA, but it will trigger a significant taxable event.
Data Breaches
Industry studies show that data breaches cost small to medium businesses an average of $200,000.* These costs include customer notification, fines, investigation costs, defense attorney fees and the expense of providing affected individuals with a year of identity theft monitoring services after the breach.
2020 Tax Changes
2020 has been a big year for tax law changes. The SECURE Act is the most significant retirement reform law in at least a decade. The CARES Act provided tax breaks designed to help ease the economic burden of the Coronavirus and related shutdowns. These are just a few of the many changes affecting individuals this year:
September 2020 Client Profile
Allen owns a small construction business and has been self-insuring property and casualty insurance risks using a captive insurance company. Is the IRS planning to crack down on these arrangements?
Open Enrollment Planning
Open enrollment is an important process that usually takes place November 1 through December 15. But for employers, planning starts much earlier. Planning ahead can result in savings, a smooth enrollment process and ensure you are offering benefits that help recruit and retain the best talent. Here are some tips for success:
Real Mortgage Costs
Well-qualified borrowers may be able to get some very low mortgage rates on both purchases and refinance transactions. But the interest rate is only one of the factors to consider before you sign:
September 2020 Q and A
Let's talk about rewarding employees during the holday season.
September 2020 Short Bits
Let's discuss the SEC whistleblower rewards, America's savings problem, and credit card balances.
Read More