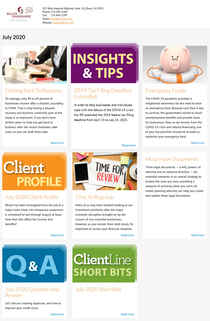 Getting Back To Business
On average, only 40 to 60 percent of businesses recover after a disaster, according to FEMA. That is why having a disaster recovery and business continuity plan at the ready is so important. If you don't have written plans to help you get back to business after the recent shutdown, take notes so you can draft them later.
2019 Tax Filing Deadline Extended
In order to help businesses and individuals cope with the fallout of the COVID-19 crisis, the IRS extended the 2019 federal tax filing deadline from April 15 to July 15, 2020.
Emergency Funds
The COVID-19 pandemic provided a heightened awareness for the need to have an emergency fund. Because cash flow is key to survival, the government rushed to boost unemployment benefits and provide loans for businesses. Now, as we recover from the COVID-19 crisis and rebuild financially, one of your top priorities should be to build or replenish your emergency fund.
July 2020 Client Profile
Nicole has been furloughed from her job at a major hotel chain. Her temporary suspension is scheduled to last through August at least. How does this affect her income and benefits?
Time To Regroup
Many of us may have avoided looking at our investment portfolios after the major economic disruption brought on by the closure of non-essential businesses. However, as you recover from shell shock, its important to review your financial situation.
Must-Have Documents
Three legal documents — a will, powers of attorney and an advance directive — are essential elements in an overall strategy to protect the ones you love, providing a measure of certainty when you can't. An estate planning attorney can help you create and update these legal documents.
July 2020 Question and Answer
Let's discuss tracking expenses, and how to improve your credit score.
July 2020 Short Bits
Read More