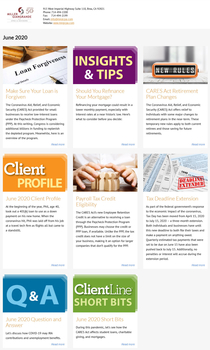 Make Sure Your Loan is Forgiven
The Coronavirus Aid, Relief, and Economic Security (CARES) Act provided for small businesses to receive low-interest loans under the Paycheck Protection Program (PPP). At this writing, Congress is considering additional billions in funding to replenish the depleted program. Meanwhile, here is an overview of the program.
Should You Refinance Your Mortgage?
Refinancing your mortgage could result in a lower monthly payment, especially with interest rates at a near historic low. Here's what to consider before you decide:
CARES Act Retirement Plan Changes
The Coronavirus Aid, Relief, and Economic Security (CARES) Act offers relief to individuals with some major changes to retirement plans in the near-term. These temporary new rules apply to both current retirees and those saving for future retirements.
June 2020 Client Profile
At the beginning of the year, Phil, age 40, took out a 401(k) loan to use as a down payment on his new home. When the coronavirus hit, Phil was laid off from his job at a travel tech firm as flights all but came to a standstill.
Payroll Tax Credit Eligibility
The CARES Act's new Employee Retention Credit is an alternative to receiving a loan through the Paycheck Protection Program (PPP). Businesses may choose the credit or PPP loan, if available. Unlike the PPP, the tax credit does not have a limit on the size of your business, making it an option for larger companies that don't qualify for the PPP.
Tax Deadline Extension
As part of the federal government's response to the economic impact of the coronavirus, Tax Day has been moved from April 15, 2020 to July 15, 2020 – a three-month extension. Both individuals and businesses have until this new deadline to both file their taxes and make a payment on anything owed. Quarterly estimated tax payments that were set to be due on June 15 have also been pushed back to July 15. Additionally, no penalties or interest will accrue during the extension period.
June 2020 Question and Answer
Let's discuss how COVID-19 may IRA contributions and unemployment benefits.
June 2020 Short Bits
During this pandemic, let's see how the CARES Act affects student loans, charitable giving, and mortgages.
Read More