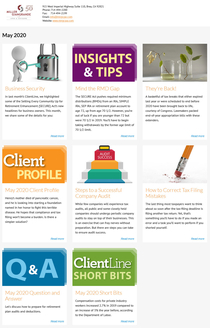 Business Security
In last month's ClientLine, we highlighted some of the Setting Every Community Up for Retirement Enhancement (SECURE) Act's new headlines for business owners. This month, we share some of the details for you:
Mind the RMD Gap
The SECURE Act pushes required minimum distributions (RMDs) from an IRA, SIMPLE IRA, SEP IRA or retirement plan account to age 72, up from age 70 1/2. However, you're out of luck if you are younger than 72 but were 70 1/2 in 2019. You'll have to begin taking withdrawals by the former age limit of 70 1/2 limit.
They're Back!
A basketful of tax breaks that either expired last year or were scheduled to end before 2020 have been brought back to life, courtesy of Congress. Lawmakers packed end-of-year appropriation bills with these extenders.
May 2020 Client Profile
Henry's mother died of pancreatic cancer, and he is looking into starting a foundation named in her honor to fight this terrible disease. He hopes that compliance and tax filing won't become a burden. Is there a simpler solution?
Steps to a Successful Company Audit
While few companies will experience tax audits, all public and some closely held companies should undergo periodic company audits to stay on top of their businesses. This is an exercise that can fray nerves without preparation. But there are steps you can take to ensure audit success.
How to Correct Tax Filing Mistakes
The last thing most taxpayers want to think about so soon after the tax-filing deadline is filing another tax return. Yet, that's something you'll have to do if you made an error and a task you'll want to perform if you shorted yourself.
May 2020 Question and Answer
Let's discuss how to prepare for retirement plan audits and deductions.
May 2020 Short Bits
Compensation costs for private industry workers increased 2.7% in 2019 compared to an increase of 3% the year before, according to the Department of Labor.
Read More