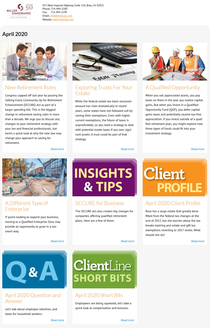 New Retirement Rules
Congress capped off last year by passing the Setting Every Community Up for Retirement Enhancement (SECURE) Act as part of a larger spending bill. This is the biggest change in retirement saving rules in more than a decade. We urge you to discuss any changes to your retirement strategy with your tax and financial professionals, but here's a quick look at why the new law may change your approach to saving for retirement.
Exploring Trusts For Your Estate
While the federal estate tax basic exclusion amount has risen dramatically in recent years, some states have not followed suit by raising their exemptions. Even with higher current exemptions, the future of taxes is unpredictable, so you need a strategy to deal with potential estate taxes if you own significant assets. A trust could be part of that strategy.
A Qualified Opportunity
When you sell appreciated assets, you pay taxes on them in the year you realize capital gains. But when you invest in a Qualified Opportunity Fund (QOF), you defer capital gains taxes and potentially receive tax-free appreciation. If you invest outside of a qualified retirement plan, you might explore how these types of funds could fit into your investment strategy.
A Different Type of Enterprise
If you're looking to expand your business, moving to a Qualified Enterprise Zone may provide an opportunity to grow in a tax-smart way.
SECURE for Business
The SECURE Act also creates big changes for companies offering qualified retirement plans. Here are a few of them:
April 2020 Client Profile
Rosa has a large estate that greatly benefited from the federal tax changes at the end of 2017, but she worries about the tax breaks expiring and estate and gift tax exemptions reverting to 2017 levels. What should she do?
April 2020 Question and Answer
Let's talk about employee retention, and taxes for household workers.
April 2020 Short Bits
Employers are being squeezed, let's take a quick look at compensation and bonuses.
Read More