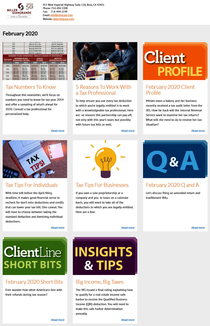 Tax Numbers To Know
Throughout this newsletter, we'll focus on numbers you need to know for tax year 2019 and offer a sampling of what's ahead for 2020. Consult a tax professional for personalized help.

5 Reasons To Work With a Tax Professional
To help ensure you use every tax deduction to which you're legally entitled is to work with a knowledgeable tax professional. Here are five reasons this partnership can pay off, not only with this year's taxes but possibly with future tax bills as well.

February 2020 Client Profile
Miriam owns a bakery and her business recently received a tax audit letter from the IRS. How far back will the Internal Revenue Service want to examine her tax returns? What will she need to do to resolve her tax situation?
Tax Tips For Individuals
With time left before the April filing deadline, it makes good financial sense to recheck for don't miss deductions and credits that can lower your tax bill. One caveat: You will have to choose between taking the standard deduction and itemizing individual deductions.
Tax Tips For Businesses
If you own a sole proprietorship or a company and you file taxes on a calendar basis, you will want to take all of the deductions to which you are legally entitled. Here are a few:

February 2020 Q and A
Let's discuss filing an amended return and traditionanl IRAs.
February 2020 Short Bits
Ever wonder how other Americans fare with their refunds during tax season?

Big Income, Big Taxes
The IRS issued a final ruling explaining how to qualify for a real estate income safe harbor to receive the Qualified Business Income (QBI) deduction. You will need to make this safe harbor determination annually.


Read More