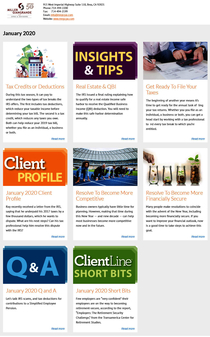 Tax Credits or Deductions
During this tax season, it can pay to understand the two types of tax breaks the IRS offers. The first includes tax deductions, which reduce your taxable income before determining your tax bill. The second is a tax credit, which reduces any taxes you owe. Both can help reduce your 2019 tax bill, whether you file as an individual, a business or both.
Real Estate & QBI
The IRS issued a final ruling explaining how to qualify for a real estate income safe harbor to receive the Qualified Business Income (QBI) deduction. You will need to make this safe harbor determination annually.
Get Ready To File Your Taxes
The beginning of another year means it's time to get ready for the annual task of ling your tax returns. Whether you you file as an individual, a business or both, you can get a head start by working with a tax professional to nd every tax break to which you're entitled.
January 2020 Client Profile
Ray recently received a letter from the IRS, saying that he underpaid his 2017 taxes by a few thousand dollars, which he wants to dispute. What are his next steps? Can his tax professional help him resolve this dispute with the IRS?
Resolve To Become More Competitive
Business owners typically have little time for planning. However, making that time during this New Year — and new decade — can help most businesses become more competitive now and in the future.
Resolve To Become More Financially Secure
Many people make resolutions to coincide with the advent of the New Year, including becoming more financially secure. If you want to improve your financial outlook, now is a good time to take steps to achieve this goal.
January 2020 Q and A
Let's talk IRS scams, and tax deductions for contributions to a Simplified Employee Pension.
January 2020 Short Bits
Few employers are "very confident" their employees are on the way to becoming retirement-secure, according to the report, "Employers: The Retirement Security Challenge," from the Transamerica Center for Retirement Studies.
Read More