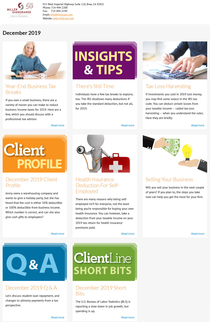 Year-End Business Tax Breaks
If you own a small business, there are a variety of moves you can make to reduce business income taxes for 2019. Here are a few, which you should discuss with a professional tax advisor:
There's Still Time
Individuals have a few tax breaks to explore, too. The IRS disallows many deductions if you take the standard deduction, but not all, for 2019.
Tax-Loss Harvesting
If investments you sold in 2019 lost money, you may find some solace in the IRS tax code. You can deduct certain losses from your taxable income – called tax-loss harvesting – when you understand the rules. Here they are briefly:
December 2019 Client Profile
Jenny owns a warehousing company and wants to give a holiday party, but she has heard that the cost is either 50% deductible or 100% deductible from business income. Which number is correct, and can she also give cash gifts to employees?
Health Insurance Deduction For Self-Employed
There are many reasons why being self-employed isn't for everyone, not the least being you're responsible for buying your own health insurance. You can however, take a deduction from your taxable income on your 2019 tax return for health insurance premiums paid.
Selling Your Business
Will you sell your business in the next couple of years? If you plan to, the steps you take now can help you get the most for your firm.
December 2019 Q & A
Let's discuss student loan repayment, and changes to alimony payments from a tax perspective.
December 2019 Short Bits
The U.S. Bureau of Labor Statistics (BLS) is reporting a slow down in job growth, but spending is up.
Read More