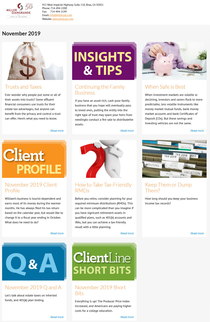 Trusts and Taxes
Ever wonder why people put some or all of their assets into trusts? Some affluent financial consumers use trusts for their estate tax advantages, but anyone can benefit from the privacy and control a trust can offer. Here's what you need to know.
Continuing the Family Business
If you have an asset-rich, cash-poor family business that you hope will eventually pass to loved ones, putting the entity into the right type of trust may spare your heirs from needingto conduct a fire sale to distributethe assets.
When Safe is Best
When investment markets are volatile or declining, investors and savers flock to more predictable, less volatile instruments like money market mutual funds, bank money market accounts and bank Certificates of Deposit (CDs). But these savings and investing vehicles are not the same.
November 2019 Client Profile
William's business is tourist-dependent and earns most of its money during the warmer months. He has always filed his tax return based on the calendar year, but would like to change it to a fiscal year ending in October. What does he need to do?
How to Take Tax-Friendly RMDs
Before you retire, consider planning for your required minimum distributions (RMDs). This can be more complicated than you imagine if you have signicant retirement assets in qualified plans, such as 401(k) accounts and IRAs, but you can achieve a tax-friendly result with a little planning.
Keep Them or Dump Them?
How long should you keep your business income tax records?
November 2019 Q and A
Let's talk about estate taxes on inherted funds, and 401(k) plan testing.
November 2019 Short Bits
Everything is up! The Producer Price Index increased, and Americans are paying higher costs for a college education.
Read More