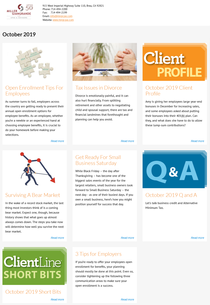 Open Enrollment Tips For Employees
As summer turns to fall, employers across the country are getting ready to present their annual open enrollment options for employee benefits. As an employee, whether you're a newbie or an experienced hand at choosing employee benefits, it is crucial to do your homework before making your selections.
Tax Issues in Divorce
Divorce is emotionally painful, and it can also hurt financially. From splitting retirement and other assets to negotiating child and spousal support, there are tax and financial landmines that forethought and planning can help you avoid.
October 2019 Client Profile
Amy is giving her employees large year-end bonuses in December for increasing sales, and some employees asked about putting their bonuses into their 401(k) plan. Can they, and what does she have to do to allow these lump-sum contributions?
Surviving A Bear Market
In the wake of a record stock market, the last thing most investors think of is a coming bear market. Expect one, though, because history shows that what goes up almost always comes down. The steps you take now will determine how well you survive the next bear market.
Get Ready For Small Business Saturday
While Black Friday – the day after Thanksgiving – has become one of the biggest sales events of the year for the largest retailers, small business owners look forward to Small Business Saturday – the next day - as one of their busiest days. If you own a small business, here's how you might position yourself for success that day.
October 2019 Q and A
Let's talk business credit and Alternative Minimum Tax.
October 2019 Short Bits
3 Tips for Employers
If you're ready to offer your employees open enrollment for benefits, your planning should mostly be done at this point. Even so, consider tightening up the following three communication areas to make sure your open enrollment is a success.
Read More