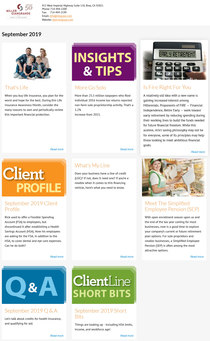 That's Life
When you buy life insurance, you plan for the worst and hope for the best. During this Life Insurance Awareness Month, consider the many reasons to own and periodically review this important financial protection.
More Go Solo
More than 25.5 million taxpayers who filed individual 2016 income tax returns reported non-farm sole proprietorship activity. That's a 1.2%
increase from 2015.
Is Fire Right For You
A relatively old idea with a new name is gaining increased interest among Millennials. Proponents of FIRE — Financial Independence, Retire Early — work toward early retirement by reducing spending during their working lives to build the funds needed for future financial freedom. While this austere, strict saving philosophy may not be for everyone, some of its principles may help those looking to meet ambitious financial goals.
September 2019 Client Profile
Rick used to offer a Flexible Spending Account (FSA) to employees, but discontinued it after establishing a Health Savings Account (HSA). Now his employees are asking for the FSA, in addition to the HSA, to cover dental and eye care expenses. Can he do both?
What's My Line
Does your business have a line of credit (LOC)? If not, does it need one? If you're a newbie when it comes to this financing vehicle, here's what you need to know.
Meet The Simplified Employee Pension (SEP)
With open enrollment season upon us and the end of the tax year coming for most businesses, now is a good time to explore your company's current or future retirement plan options. For sole proprietors and smaller businesses, a Simplified Employee Pension (SEP) is often among the most attractive options.
September 2019 Q & A
Let's talk about credits for health insurance, and qualifying for aid.
September 2019 Short Bits
Things are looking up - including HSA limits, income, and workforce age!
Read More