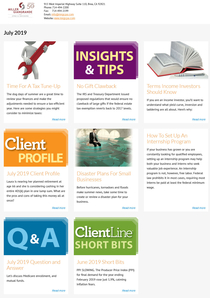 Time For A Tax Tune-Up
The dog days of summer are a great time to review your finances and make the adjustments needed to ensure a tax-efficient year. Here are some strategies you might consider to minimize taxes:
No Gift Clawback
The IRS and Treasury Department issued proposed regulations that would ensure no clawback of large gifts if the federal estate tax exemption reverts back to 2017 levels.
Terms Income Investors Should Know
If you are an income investor, you'll want to understand what yield curve, inversion and laddering are all about. Here's why:
July 2019 Client Profile
Laura is nearing her planned retirement at age 66 and she is considering cashing in her entire 401(k) plan in one lump sum. What are the pros and cons of taking this money all at once
Disaster Plans For Small Businesses
Before hurricanes, tornadoes and floods make summer news, take some time to create or review a disaster plan for your business.
How To Set Up An Internship Program
If your business has grown or you are constantly looking for qualified employees, setting up an internship program may help both your business and interns who seek valuable job experience. An internship program is not, however, free labor. Federal law prohibits it in most cases, requiring most interns be paid at least the federal minimum wage.
July 2019 Question and Answer
Let's discuss Medicare enrollment, and mutual funds.
June 2019 Short Bits
PPI SLOWING. The Producer Price Index (PPI) for final demand for the year ending February 2019 rose just 1.9%, calming inflation fears.
Read More