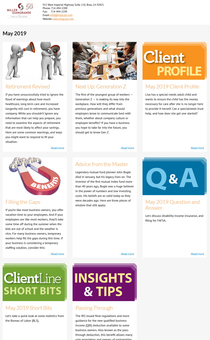 Retirement Revised
If you have unsuccessfully tried to ignore the flood of warnings about how much healthcare, long term care and increased longevity will cost in retirement, you have company. While you shouldn't ignore any information that can help you prepare, you need to examine the aspects of retirement that are most likely to affect your savings. Here are some common warnings, and ways you might want to respond to fit your situation.
Next Up: Generation Z
The first of the youngest group of workers — Generation Z — is making its way into the workplace. How will they differ from previous generations and what should employers know to communicate best with them, whether about company culture or employee benefits? If you have a business you hope to take far into the future, you should get to know Gen Z.
May 2019 Client Profile
Lisa has a special-needs adult child and wants to ensure the child has the money necessary for care after she is no longer here to provide it herself. Can a specialneeds trust help, and how does she get one started?
Filling the Gaps
If you're like most business owners, you offer vacation time to your employees. And if your employees are like most workers, they'll take some time off during the summer when the kids are out of school and the weather is nice. For many business owners, temporary workers help fill the gaps during this time. If your business is considering a temporary staffing solution, consider this:
Advice from the Master
Legendary mutual fund pioneer John Bogle died in January, but his legacy lives on. The inventor of the first mutual index fund more than 40 years ago, Bogle was a huge believer in the power of numbers and low investing costs. His beliefs are as valid today as they were decades ago. Here are three pieces of wisdom that still apply:
May 2019 Question and Answer
Let's discuss disability income insurance, and filing for FAFSA.
May 2019 Short Bits
Let's take a quick look at some statistics from the Bureau of Labor (BLS).
Passing Through
The IRS issued final regulations and more guidance for the new qualified business income (QBI) deduction available to some business owners. Also known as the pass-through deduction, this benefit allows many sole proprietors and owners of partnerships, S corporations, trusts and estates and some real estate investment trusts to deduct up to 20% of their QBI on their tax returns.
Read More