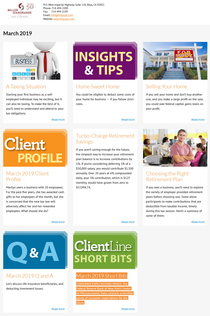 A Taxing Situation
Starting your first business as a self-employed individual may be exciting, but it can also be taxing. To make the best of it, you'll need to understand and attend to your tax obligations.
Home Sweet Home
You could be eligible to deduct some costs of your home for business — if you follow strict rules.
Selling Your Home
If you sell your home and don't buy another one, and you make a large profit on the sale, you could owe federal capital gains taxes on your profit.
March 2019 Client Profile
Marilyn owns a business with 20 employees. For the past five years, she has awarded cash gifts to her employees of the month, but she is concerned that the new tax law will adversely affect her and her rewarded employees. What should she do?
Turbo-Charge Retirement Savings
If you aren't saving enough for the future, the simplest way to increase your retirement plan balance is to increase contributions by 1%. If you're considering deferring 3% of a $50,000 salary, you would contribute $1,500 annually. Over 20 years at 6% compounded daily, your 3% contribution, which is $125 monthly, would have grown from zero to $57,994.74.
Choosing the Right Retirement Plan
If you own a business, you'll need to explore the variety of employer provided retirement plans before choosing one. Some allow participants to make contributions that are deductible from taxable income, timely during this tax season. Here's a summary of some of them:
March 2019 Q and A
Let's discuss life insurance beneficiaries, and deducting investment losses.
March 2019 Short Bits
CONSUMER EXPECTATIONS MIXED. The Federal Reserve Bank of New York's Center for Microeconomic Data conducts a monthly survey of consumer expectations for the future.
Read More