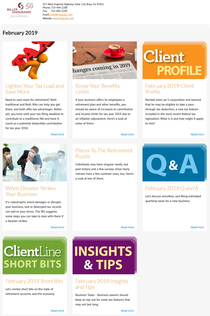 Lighten Your Tax Load and Save More
Need to save more for retirement? Both traditional and Roth IRAs can help you get there, and both offer tax advantages. Better yet, you have until your tax filing deadline to contribute to a traditional IRA and have it count as a potential deductible contribution for tax year 2018.
Know Your Benefits Limits
If your business offers its employees a retirement plan and other benefits, you should be aware of increases to contribution and income limits for tax year 2019 due to an inflation adjustment. Here's a look at some of them:
February 2019 Client Profile
Randall owns an S corporation and learned that he may be eligible to take a pass-through tax deduction, a new tax feature included in the most recent federal tax legislation. What is it and how might it apply to him?
When Disaster Strikes Your Business
If a catastrophic event damages or disrupts your business, lost or destroyed tax records can add to your stress. The IRS suggests some steps you can take to deal with them if a disaster strikes.
Pieces To The Retirement Puzzle
Individuals may have singular needs, but past history and a few surveys show many retirees have a few common ones, too. Here's a look at two of them.
February 2019 Q and A
Let's discuss annuities, and filing estimated quarterly taxes for a new business.
February 2019 Short Bits
Let's review short bits on the state of retirement accounts and the economy.
February 2019 Insights and Tips
Business Taxes - Business owners should keep an eye out for some tax features that may not last long.
Read More