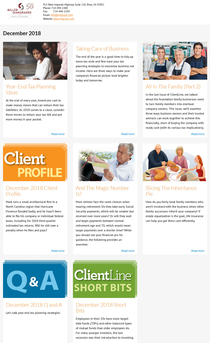 Year-End Tax Planning Ideas
At the end of every year, Americans rush to make money moves that can reduce their tax liabilities. As 2018 comes to a close, consider these moves to reduce your tax bill and put more money in your pocket.
Taking Care of Business
The end of the year is a good time to tidy up loose tax ends and fine-tune your tax planning strategies to maximize business net income. Here are three ways to make your company's financial picture look brighter today and tomorrow.
All In The Family (Part 2)
In the last issue of ClientLine, we talked about the foundation family businesses need to turn family members into eventual company owners. This issue, we'll examine three ways business owners and their trusted advisors can work together to achieve this financially, short of buying the company with ready cash (with its various tax implications).
December 2018 Client Profile
Mark runs a small architectural firm in a North Carolina region that Hurricane Florence flooded badly, and he hasn't been able to file his company or individual federal taxes, including his 2018 third-quarter estimated tax returns. Will he still owe a penalty when he files and pays?
And The Magic Number Is?
Most retirees face the same choices when nearing retirement: Do they take early Social Security payments, which will be smaller but received over more years? Or will they wait and begin payments between normal retirement age and 70, which would mean larger payments over a shorter time? While you should see your financial pro for guidance, the following provides an overview:
Slicing The Inheritance Pie
How do you fairly treat family members who aren't involved with the business when other family successors inherit your company? If estate equalization is the goal, life insurance can help you get there cost-efficiently.
December 2018 Q and A
Let's talk year-end tax planning strategies.
December 2018 Short Bits
Employees in their 20s have more target-date funds (TDFs) and other balanced types of mutual funds than older employees do. For many younger investors, the last recession was their introduction to investing.
Read More