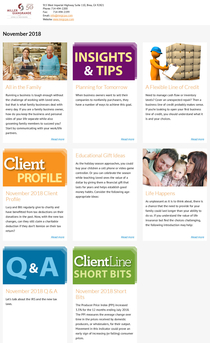 All in the Family
Running a business is tough enough without the challenge of working with loved ones, but that is what family businesses deal with every day. If you are a family business owner, how do you keep the business and personal sides of your life separate while also grooming family members to succeed you? Start by communicating with your work/life partners.
Planning for Tomorrow
When business owners want to sell their companies to nonfamily purchasers, they have a number of ways to achieve this goal.
A Flexible Line of Credit
Need to manage cash flow or inventory levels? Cover an unexpected repair? Then a business line of credit probably makes sense. If you're looking to open your first business line of credit, you should understand what it is and your choices.
November 2018 Client Profile
Lucy and Bill regularly give to charity and have benefitted from tax deductions on their donations in the past. Now, with the new tax changes, can they still claim a charitable deduction if they don't itemize on their tax return?
Educational Gift Ideas
As the holiday season approaches, you could buy your children a cell phone or video game controller. Or you can celebrate the season while teaching loved ones the value of a dollar by giving them a financial gift that lasts for years and helps establish good money habits. Consider the following age-appropriate ideas:
Life Happens
As unpleasant as it is to think about, there is a chance that the need to provide for your family could last longer than your ability to do so. If you understand the value of life insurance but find the choices challenging, the following introduction may help:
November 2018 Q & A
Let's talk about the IRS and the new tax laws.
November 2018 Short Bits
The Producer Price Index (PPI) increased 3.3% for the 12 months ending July 2018. The PPI measures the average change over time in the prices received by domestic producers, or wholesalers, for their output. Movement in this indicator could prove an early sign of increasing (or falling) consumer prices.
Read More