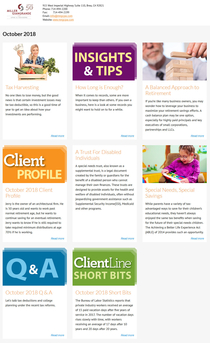 Tax Harvesting
No one likes to lose money, but the good news is that certain investment losses may be tax-deductible, so this is a good time of year to get an idea about how your investments are performing.
How Long is Enough?
When it comes to records, some are more important to keep than others. If you own a business, here is a look at some records you might want to hold on to for a while.
A Balanced Approach to Retirement
If you're like many business owners, you may wonder how to leverage your business to maximize your retirement savings efforts. A cash balance plan may be one option, especially for highly paid principals and key executives of small corporations, partnerships and LLCs.
October 2018 Client Profile
Jerry is the owner of an architectural firm. He is 50 years old and wants to work past normal retirement age, but he wants to continue saving for an eventual retirement. Jerry wants to know if he is still required to take required minimum distributions at age 70½ if he is working.
A Trust For Disabled Individuals
A special needs trust, also known as a supplemental trust, is a legal document created by the family or guardians for the benefit of a disabled person who cannot manage their own finances. These trusts are designed to provide assets for the health and welfare of disabled individuals, often without jeopardizing government assistance such as Supplemental Security Income(SSI), Medicaid and other programs.
Special Needs, Special Savings
While parents have a variety of tax-advantaged ways to save for their children's educational needs, they haven't always enjoyed the same tax benefits when saving for the future of their special-needs children. The Achieving a Better Life Experience Act (ABLE) of 2014 provides such an opportunity.
October 2018 Q & A
Let's talk tax deductions and college planning under the recent tax reforms.
October 2018 Short Bits
The Bureau of Labor Statistics reports that private industry workers received an average of 15 paid vacation days after five years of service in 2017. The number of vacation days rises slowly with time, with workers receiving an average of 17 days after 10 years and 20 days after 20 years.
Read More