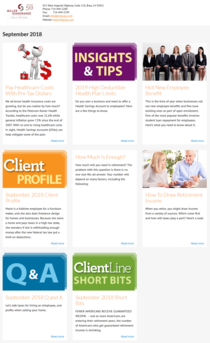 Pay Healthcare Costs With Pre-Tax Dollars
We all know health insurance costs are growing, but do you realize by how much? According to the Peterson-Kaiser Health Tracker, healthcare costs rose 21.6% while general inflation grew 7.3% since the end of 2007. With no end to rising healthcare costs in sight, Health Savings accounts (HSAs) can help mitigate some of the pain.
2019 High Deductible Health Plan Limits
Do you own a business and want to offer a Health Savings Account to employees? Here are a few things to know.
Hot New Employee Benefit
This is the time of year when businesses roll out new employee benefits and fine-tune existing ones as part of open enrollment. One of the most popular benefits involves student loan repayment for employees. Here's what you need to know about it.
September 2018 Client Profile
Marie is a fulltime employee for a furniture maker, and she also does freelance design for homes and businesses. Because she owns a home and pays taxes in a high-tax state, she wonders if she is withholding enough money after the new federal tax law put a limit on deductions.
How Much Is Enough?
How much will you need in retirement? The problem with this question is there is no one-size-fits-all answer. Your number will depend on many factors, including the following:
How To Draw Retirement Income
When you retire, you might draw income from a variety of sources. Which come first and how will taxes play a part? Here's a look:
September 2018 Q and A
Let's talk taxes for hiring an eimployee, and profits when selling your home.
September 2018 Short Bits
FEWER AMERICANS RECEIVE GUARANTEED INCOME. – Just as more Americans are entering their retirement years, the number of Americans who get guaranteed retirement income is shrinking.
Read More