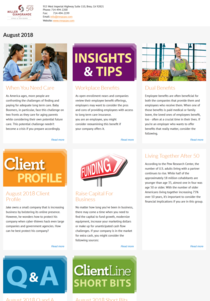 When You Need Care
As America ages, more people are confronting the challenges of finding and paying for adequate long term care. Baby Boomers, in particular, face this challenge on two fronts as they care for aging parents while considering their own potential future care. This potential challenge needn't become a crisis if you prepare accordingly.
Workplace Benefits
As open enrollment nears and companies review their employee benefit offerings, employers may want to consider the pros and cons of providing employees with access to long term care insurance. you are an employee, you might
consider reexamining this benefit if
your company offers it.
Dual Benefits
Employee benefits are often beneficial for both the companies that provide them and employees who receive them. When one of those benefits is paid medical or family leave, the loved ones of employees benefit, too - often at a crucial time in their lives. If you're an employer who wants to offer benefits that really matter, consider the following.
August 2018 Client Profile
Jake owns a small company that is increasing business by bolstering its online presence. However, he wonders how to protect his company when cyber-thieves hack even large companies and government agencies. How can he best protect his company?
Raise Capital For Business
No matter how long you've been in business, there may come a time when you need to find the capital to fund growth, modernize equipment, increase your marketing dollars or make up for unanticipated cash flow challenges. If your company is in the market for extra cash, you might consider the following sources:
Living Together After 50
According to the Pew Research Center, the number of U.S. adults living with a partner continues to rise. While half of the approximately 18 million cohabitants are younger than age 35, almost one in four was age 50 or older. With the number of older Americans living together increasing 75% over 10 years, it's important to consider the financial implications if you are in this group.
August 2018 Q and A
Let's discuss advanced degrees and being a small business owner.
August 2018 Short Bits
TAX ID THEFT HELP – Identity theft is a growing problem and clearing up the damage done by it can be costly and time-consuming.
Read More