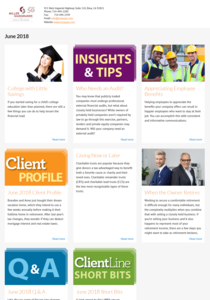 College with Little Savings
If you started saving for a child's college education later than planned, there are still a few things you can do to help lessen the financial load.
Who Needs an Audit?
You may know that publicly traded companies must undergo professional external financial audits, but what about closely held businesses? While owners of privately held companies aren't required by law to go through this exercise, partners, lenders and private equity companies may demand it. Will your company need an external audit?
Appreciating Employee Benefits
Helping employees to appreciate the benefits your company offers can result in happier employees who want to stay at their job. You can accomplish this with consistent and informative communications.
June 2018 Client Profile
Brandon and Anne just bought their dream vacation home, which they intend to use a few weeks annually before making it their fulltime home in retirement. After last year's tax changes, they wonder if they can deduct mortgage interest and real estate taxes.
Giving Now or Later
Charitable trusts are popular because they give donors a tax-advantaged way to benefit both a favorite cause or charity and their loved ones. Charitable remainder trusts (CRTs) and charitable lead trusts (CLTs) are the two most recognizable types of these trusts.
When the Owner Retires
Working to secure a comfortable retirement is difficult enough for many individuals, but the complexity multiplies when you combine that with selling a closely held business. If you're selling your business and it also happens to represent most of your retirement income, there are a few steps you might want to take as retirement beckons.
June 2018 Q & A
Let's discuss some of the tax law changes and working with an investment advisor.
June 2018 Short Bits
A joint report by the LIMRA secure Retirement and Insured Retirement Institute (IRI) finds only 51% of Americans believe they are knowledgeable about Health Savings Accounts (HSAs).
Read More