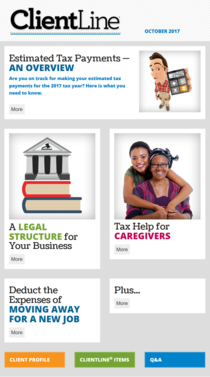 Estimated Tax Payments — An Overview

Are you on track for making your estimated tax payments for the 2017 tax year? Here is what you need to know.

A legal structure for Your Business

Entrepreneurs should take the time to weigh the advantages and disadvantages of choosing a particular legal structure for their business. Here are some options to consider.

Tax Help for Caregivers

Are you caring for an elderly or disabled family member? The tax tips that follow may provide a little relief at tax time.

Deduct the Expenses of Moving Away for a New Job

You are ready to start a new phase in your life — a new job in a new place far from your current home. And the good news is that you may be able to deduct the cost of moving your family and your possessions to your new home.
Read More