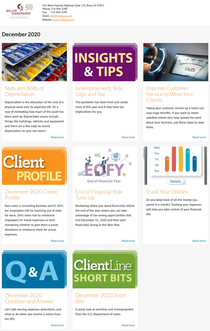 Nuts and Bolts of Depreciation
Depreciation is the allocation of the cost of a physical asset over its expected life. It's a way of estimating how much of the asset has been used up. Depreciable assets include things like buildings, vehicles and equipment and there are a few ways to record depreciation on your tax return.
Unemployment, Side Gigs, and Tax
The pandemic has been front and center most of this year and it may have tax implications for you.
Improve Customer Service to Wow Your Clients
Taking your customer service up a notch can reap huge benefits. If you want to retain satisfied clients who help spread the word about your business, use these steps to wow them.
December 2020 Client Profile
Kara owns a consulting business and in 2021 her employees will be traveling out of state for work. She's never had to reimburse employees for travel expenses so she's wondering whether to give them a travel allowance or reimburse them for actual expenses.
End of Financial Year Tune Up
Reviewing where you stand financially before the end of the year means you can take advantage of tax-saving opportunities that end December 31, 2020 and then start financially strong in the New Year.
Track Your Dollars
Do you keep track of all the money you spend in a month? Tracking your expenses will help you take control of your financial life.
December 2020 Question and Answer
Let's talk moving expenses deductions, and what to do when you receive a notice from the IRS.
December 2020 Short Bits
A quick look at overtime and unemployment from the U.S. Department of Labor.
Read More