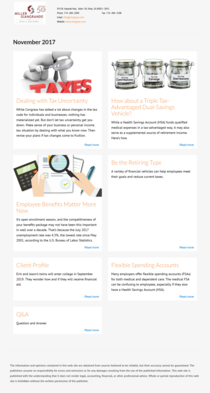 Dealing with Tax Uncertainty

While Congress has talked a lot about changes in the tax code for individuals and businesses, nothing has materialized yet. But don't let tax uncertainty get you down. Make sense of your business or personal income tax situation by dealing with what you know now. Then revise your plans if tax changes come to fruition.

How about a Triple Tax-Advantaged Dual-Savings Vehicle?

While a Health Savings Account (HSA) funds qualified medical expenses in a tax-advantaged way, it may also serve as a supplemental source of retirement income. Here's how.

Employee Benefits Matter More Now

It's open enrollment season, and the competitiveness of your benefits package may not have been this important in well over a decade. That's because the July 2017 unemployment rate was 4.3%, the lowest rate since May 2001, according to the U.S. Bureau of Labor Statistics.

Be the Retiring Type

A variety of financial vehicles can help employees meet their goals and reduce current taxes. Start by contributing the maximum to a qualified retirement plan.

Client Profile

Erin and Jason's twins will enter college in September 2019. They wonder how and if they will receive financial aid.

Flexible Spending Accounts
Know the Difference

You cannot have both a medical FSA and an HSA, unless the FSA is for limited uses such as dental and vision costs. The other major variable is the ability to roll your money over to the next year, which is different from what an HSA allows.
Read More