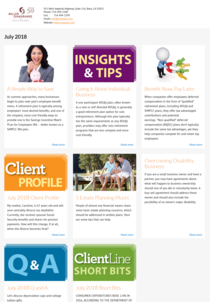 A Simple Way to Save
As summer approaches, many businesses begin to plan next year's employee benefit menu. A retirement plan is typically among employees' most desired benefits, and one of the simplest, most cost-friendly ways to provide one is the Savings Incentive Match PLan for Employees IRA – better known as a SIMPLE IRA plan.
Going it Alone Individual-Business
A one-participant 401(k) plan, often known as a solo or self-directed 401(k), is generally a good retirement plan option for solo entrepreneurs. Although this plan typically has the same requirements as any 401(k) plan, providers may offer solo retirement programs that are less complex and more cost-friendly.
Benefit Now, Pay Later
When companies offer employees deferred compensation in the form of "qualified" retirement plans, including 401(k) and SIMPLE plans, they offer tax-advantaged contributions and potential
earnings. "Non-qualified" deferred compensation (NQDC) plans don't typically include the same tax advantages, yet they help companies compete for and retain top employees.
July 2018 Client Profile
My mother, Caroline, is 67 years old and will soon amicably divorce my stepfather. Currently, she receives spousal Social Security benefits and shares his pension payments. How will this change, if at all, when the divorce becomes final?
5 Estate Planning Musts
People of almost any financial means share some basic estate planning concerns, which should be addressed in written plans. Here are some tips that can help.
Overcoming Disability Business
If you are a small business owner and have a partner, you may have agreements about what will happen to business ownership should one of you die or voluntarily leave. A buy-sell agreement should address these events and should also include the possibility of an owner's major disability.
July 2018 Q and A
Let's discuss depreciation caps and college tuition gifts.
July 2018 Short Bits
CONSUMER EXPENDITURES ROSE 2.4% IN 2016, ACCORDING TO THE DEPARTMENT OF LABOR'S BUREAU OF LABOR STATISTICS.
Read More