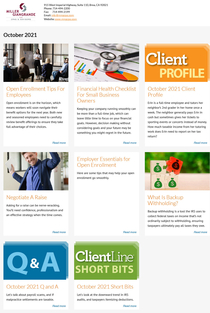 Open Enrollment Tips For Employees
Open enrollment is on the horizon, which means workers will soon navigate their benefit options for the next year. Both new and seasoned employees need to carefully review benefit offerings to ensure they take full advantage of their choices.
Financial Health Checklist For Small Business Owners
Keeping your company running smoothly can be more than a full-time job, which can leave little time to focus on your financial goals. However, decision making without considering goals and your future may be something you might regret in the future.
October 2021 Client Profile
Erin is a full-time employee and tutors her neighbor's 2nd grader in her home once a week. The neighbor generally pays Erin in cash but sometimes gives her tickets to sporting events or concerts instead of money. How much taxable income from her tutoring work does Erin need to report on her tax return?
Negotiate A Raise
Asking for a raise can be nerve-wracking. You'll need confidence, professionalism and an effective strategy when the time comes.
Employer Essentials for Open Enrollment
Here are some tips that may help your open enrollment go smoothly.
What Is Backup Withholding?
Backup withholding is a tool the IRS uses to collect federal taxes on income that's not ordinarily subject to withholding, ensuring taxpayers ultimately pay all taxes they owe.
October 2021 Q and A
Let's talk about payroll scams, and if malpractice settlements are taxable.
October 2021 Short Bits
Let's look at the downward trend in IRS audits, and taxpayers itemizing deductions.
Read More