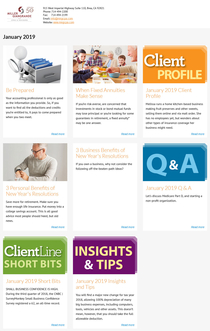 Be Prepared
Your accounting professional is only as good as the information you provide. So, if you want to find all the deductions and credits you're entitled to, it pays to come prepared when you two meet.
When Fixed Annuities Make Sense
If you're risk-averse, are concerned that investments in stock or bond mutual funds may lose principal or you're looking for some guarantees in retirement, a fixed annuity* may be one answer.
January 2019 Client Profile
Melissa runs a home kitchen-based business making fruit preserves and other sweets, selling them online and via mail order. She has no employees yet, but wonders about other types of insurance coverage her business might need.
3 Personal Benefits of New Year's Resolutions
Save more for retirement. Make sure you have enough life insurance. Put money into a college savings account. This is all good advice most people should heed, but old news.
3 Business Benefits of New Year's Resolutions
If you own a business, why not consider the following off-the-beaten-path ideas?
January 2019 Q & A
Let's discuss Medicare Part D, and starting a non-profit organization.
January 2019 Short Bits
SMALL BUSINESS CONFIDENCE IS HIGH. During the third quarter of 2018, the CNBC | SurveyMonkey Small Business Confidence Survey registered a 62, an all-time record.
January 2019 Insights and Tips
You will find a major new change for tax year 2018, allowing 100% depreciation of many big business expenses, including computers, tools, vehicles and other assets. This doesn't mean, however, that you should take the full allowable deduction.
Read More